John Paul Ashenfelter is CTO of TransitionPoint.com, where he builds web-based business applications using a mix of open source tools, ColdFusion, and Java. He has been the technical lead on a number of ColdFusion projects for startups as well as regularly serving as an architect for existing ColdFusion sites converting to Fusebox. A ColdFusion developer since version 2.0, John Paul has written several books covering ColdFusion, contributed articles to CFDJ, and spoken at several ColdFusion conferences.
Sandra Clark, an advanced Macromedia Certified ColdFusion developer, is a Senior Software Developer with the Constella Group in Bethesda, Maryland. She has contributed material to the ColdFusion 5.0 Certified Developer Study Guide published by Syngress Media/Osborne McGraw Hill and to the ColdFusion Developers Journal. She has also spoken at various CFUGS and ColdFusion User Conferences around the country. Sandra is an active proponent of applying accepted and proven web standards to development as a way of improving accessibility as well as making life easier on developers. She can be reached at
[email protected]
Sandra also maintains a website and blog at
http://www.shayna.com
, where she shares information on CSS, Accessibility, Fusebox, Coldfusion and also offers training classes.

Isaac inherited an interest in programming from his father who worked on various iterations of DOS, among other things. He started with ColdFusion 3.0 at MCI/WorldCom in the midst of their merger. When they finalized the merger his job vanished but he enjoyed working with ColdFusion so much that he couldn't put it down. Since then he's worked with ASP, tinkered with Perl and XML, and appropriated some DHTML DOM and Macromedia Flash MX skills, although ColdFusion remains his first love. Isaac's strengths lie in application architecture,modular/reusable coding practices, object orientation, and "content management"—whatever that is

Ben Edwards is a software engineer. He holds a degree in Computer Science from the Georgia Institute of Technology (Georgia Tech) with specialties in Software Engineering and Educational Technology. Ben uses his education and experience to help software organizations apply fundamental practices of software engineering to successful development projects. Ben is co-creator of Mach-II.
Hal Helms is a well-known speaker/writer/strategist on software development issues. Hal has a monthly column in "ColdFusion Developer's Journal" and has written and contributed to several books. His latest book is "Discovering CFCs" available at www.techspedition.com. Hal holds training sessions on Java, ColdFusion, and software development processes. He is the author of the popular "Occasional Newsletter" series. For more information, contact him at
[email protected]
or see his website, www.halhelms.com.
Simon Horwith has been designing web-enabled enterprise applications for over a decade and is the CTO at Nylon Technology, a New York City based software development company. As a hands-on IT Executive and journalist, he observes, predicts, and offers commentary on trends in technology. As a developer, he enjoys facing the challenges associated with creating tomorrow's software today. Simon is an Adobe Certified Master Instructor, is a Member of the Adobe Community Expert Program, and served as Editor-in-Chief of ColdFusion Developer's Journal for several years. In addition to managing the New York Flex User Group and presenting at user groups and conferences around the world, Simon has also been a contributing author of several books and technical papers. You can read his blog at http://www.horwith.com.
Coming Soon
Scott is a career developer with over 20 years experience. He has worked for large companies, small companies, and been self-employed. Scott will help to guide you on a focused career path while giving you the tools to evaluate your career along the way.
Jeff Peters is a project manager for Operational Technologies Services, an engineering services firm in Northern Virginia. Jeff has been involved in system development and integration for 20 years, starting with the U.S. Air Force back when Ada was the next great language. ("Ada--all the power of C; all the clarity of...C!") He is also the author of several books on ColdFusion and Fusebox, and his articles have appeared in the ColdFusion Developers Journal, Pocket PC Magazine, and the CPCUG Monitor. His blog appears at jeffpeters.coldfusionjournal.com, and he maintains a site for Fusebox resources at www.grokfusebox.com.
Maxim is Lead Software Architect at CFI/Westgate Resorts. He has enjoyed a diverse career leading teams in the design and implementation of a variety of software applications, including online travel, interactive kiosks, client/server chat software, payment processing solutions, and sales and support applications. As an expert developer, Maxim pioneered best practices for integrating the J2EE Spring framework with ColdFusion. He is presently directing the migration of CFI's enterprise applications to a service-oriented architecture utilizing Java, Flex, and ColdFusion technology, and spearheading the cultural switch from procedural to object oriented development for over 70 software development professionals. Maxim is widely recognized as an authority in the Fusebox Lifecycle Process (FLiP), and techniques for effective management of development teams. He has presented at numerous ColdFusion conferences and User Groups across the country, and is Chairman of the IT Advisory Committee for Valencia Community College in Orlando, FL.

Formerly with NASA's Hubble Space Telescope, John holds a masters in astrophysics, and was a member of the Chicago Board of Trade's mid-am division before becoming chief technology officer of FutureNow, Inc. With clients such as Computer Associates, iProspect, Allegis, Dell, and the Perth Mint, his company maximizes conversion rates of clients via their patent-pending Perusasion Architecture M.A.P. process which incorporates expert persuasion techniques directly into the architecture, email marketing, design and development processes. He's a regular contributor to the popular GrokDotCom newsletter and co-author of the best-selling book "Discovering Fusebox 3".
Joe Rinehart has been designing and developing applications based on Adobe products for over ten years. By participating in the Adobe community, blogging and developing open-source development tools like Model-Glue, Joe has built a reputation as a leader in the Adobe development community. Published in magazines such as Dr. Dobbs' Journal and The Fusion Authority Quarterly Update, he's also a regular speaker at technical conferences such as Adobe MAX. Find out more by reading Joe's blog, Firemoss, at www.firemoss.com.

Neil Ross is the Application Development Manager for the Pennsylvania Office of Attorney General. In his role there, he uses his experience as a Certified ColdFusion MX Developer and ColdFusion Instructor to mentor and lead development efforts, provide architectural guidance and server configuration support. Neil is co-author of Inside ColdFusion MX and is a frequent contributor to the ColdFusion Developer's Journal and other technical magazines. He is a regular speaker in the Macromedia User Community as well as at developer conferences, including Allaire's ColdFusion Developer's Conference 2000, CFUN and CFEurope in 2003. Neil also founded and managed ColdFusion and Macromedia User Groups in Pennsylvania and Virginia. Neil develops ColdFusion applications and further supports the ColdFusion community through his personal website Codesweeper, www.codesweeper.com.
Jonathan Rowny is a ColdFusion and Flex developer for AboutWeb LLC in Rockville, MD. He has worked with ColdFusion since version 4.5 with a background in C++ and Java. His focus is search engine optimization, object oriented programming, and most recently Adobe Flex 2.

Michael Smith is the President of TeraTech, a 20-year old Rockville, Maryland consulting company that specializes in web and database development. TeraTech has developed sophisticated data-driven web sites for a wide range of organizations, from corporations to government agencies. In addition to ColdFusion, the TeraTech team also have extensive experience in server tuning, security issues, Flex and SQL. Michael has been programming for over 25 years and has been coding in ColdFusion since version 1.5 twelve years ago. He obtained his MA and BA from Cambridge University, England and graduated in the top 10 of his year. Michael runs the Maryland ColdFusion User Group and organized many very successful CF events including CFUnited with over 800 attendees. Michael volunteers at ByteBack, a non-profit organization provides computer training for unemployed and under-employed inner city residents.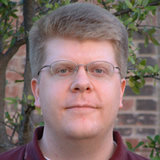 Matt Woodward is Principal Information Technology Specialist at the Office of the Sergeant at Arms of the United States Senate in Washington, D.C. He is a Certified ColdFusion developer, has been working with ColdFusion since 1996, and blogs frequently about OO development and software architecture (http://www.mattwoodward.com/blog). In addition to his ColdFusion work, Matt also develops in Flex, Java, and C#. Matt is the release coordinator and a contributing developer for the Mach-II framework, he is on the editorial board of the ColdFusion Developer's Journal, and he also co-hosts the ColdFusion Weekly Podcast (http://www.coldfusionweekly.com).
| HOME | DIRECTIONS | HOTEL |
| TOPICS | SPEAKERS | REGISTER | CF CONF CENTRAL |